From Music Close Up
Sayuri : Wins first MVP Award on USEN's Online Music Site

Sayuri, one of our up and coming artists finally got what she deserves for her dedication and hard work to creating music. She was awarded the MVP Award for "Most Downloaded Songs" in October 2008. We thank each and every one of her fans who made this amazing accomplishment possible.
MUSIC TREE HP : http://tree.ongen.net
List of award recipients and comments: http://tree.ongen.net/prize/2008-10.php
Hot Topics
Yu Sasaki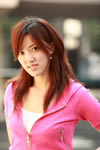 Yu Sasaki has been casted in the world famous musical "Miss Saigon"and will be performing at the Imperial Theatre for this long-run project.

Click here

for more information.


More information here

News and Topics
09/03/05

: Our actor Taiki Naito will be performing in the musical "BOKENSHA-TACHI"

09/02/03

: Our CEO was named Musical Director of 「ALTAR BOYZ」. Tickets will be available soon.

09/01/22

: Two of our lucky models who won the office lottery went on location for a photo shoot.

09/01/06

: Our 9th Annual New Year's Party was held - more than 200 guests attended the event.

08/12/18

: Several of our talents were casted and will be performing in "Kimini Sasageru Uta"

08/12/10

: The DVD version of anime Candy Boy will be on sale. All music was produced by From Music.

08/12/08

: Four of our models were chosen as the cover girls for a Docomo quarterly magazine.

08/12/02

: Rui and Taka just came back from China, where they had a great performance.

08/11/28

: 「Ocean Xmas」 - it was a gret pleasure producing the magnificent Christmas event.